An award-winning documentary on successful schools across the country, WHY DO THESE KIDS LOVE SCHOOL? is a provocative look at educational settings in which relationships, creative thinking and direct experience are valued more highly than memorization of facts. This national PBS special, profiles a range of innovative schools across the country.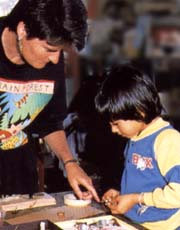 Introduced by Tom Peters, co-author of "In Search of Excellence," the film features nine unique schools (public and private) from the suburbs of California to the heart of East Harlem.
Beginning with an intimate look at a 70-year-old independent school in the San Francisco Bay Area, this program then visits eight unique public schools around the countryin which teachers, parents, students, and administrators are involved in creating vibrant, supportive educational environments. What emerges is the importance of humane values in our schools.
This remarkable documentary show results: strong student and faculty morale, improved test scores, and classrooms of students with the capacity for self-directed learning.
---
"Pure magic! I've never seen a more riveting portrayal of youngsters learning and growing. Educators seeking new images of what schools can be will find ideas, as well as inspiration, in this remarkable documentary.""
MARY ANNE RAYWID, Hofstra University
Center for the Study of Educational Alternatives
author of more than 100 articles on alternative approaches in education
"...Inspired and inspiring. For too long there has been a chilling assumption around this land: that schools are not capable of improving themselves, that they must await the intervention of some outside commission, committee, agency or force. This remarkable documentary lays that myth to rest once and for all."
ROLAND BARTH,
Faculty, Harvard Graduate School of Education
"This beautiful film shows convincingly that schools can be places of delight, learning, caring and wisdom."
NEL NODDINGS,
Stanford University, School of Education
"A film that has powerful lessons to teach, including the simple message that there are schools in this country where innovation is the norm, mutual respect is the standard, and children truly enjoy learning."
PHI DELTA KAPPAN, Volume 73, Number 8
"It is incredibly heartening and inspiring to see these nine good schools through a perceptive lens. WHY DO THESE KIDS LOVE SCHOOL? functions both as a wonderful statement of modern progressivism and as a rousing three cheers for everyone working hard to improve our country's schools. It shows that the hard work is worth it, and that it can, should, and must be done."
THEODORE SIZER,
Brown University - Education Department,
author of The Coalition of Essential Schools
"Every time I watch WHY DO THESE KIDS LOVE SCHOOL? I am even more impressed with this wonderful documentary, which captures both the practice and the spirit of effective schools!"
DEE DICKINSON,
New Horizons for Learning
(an international network of schools, educators and
researchers committed to innovative approaches to education)
---
Awards
BLUE RIBBON
American Film and Video Festival
BEST DOCUMENTARY
The "Joeys" San Jose Film Festival
SILVER PLAQUE
Chicago Film Festival
SILVER APPLE
National Educational Film and Video Festival
BRONZE STAR
Worldfest-Houston International Film Festival
---
Order
Prices:
$29.95 - individuals*
(plus $7 for shipping and handling)

$95.00 - universities, institutions, and libraries*
(plus $7 for shipping and handling)
*Comprehensive study guide available with purchase.
To order a VHS copy of this video, contact us:
E-mail: info@concentric.org
Phone: 650-568-4340
OR send a check or purchase order, payable to Fadiman Productions:
Fadiman Productions c/o Concentric Media
P.O. Box 1414
Menlo Park, CA 94026
(Please include a street address for UPS delivery)