CHOICE: Then & Now Series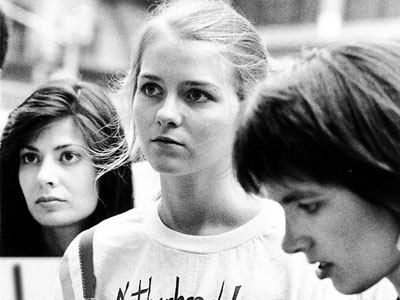 Since 1991, the team at Concentric Media has continued to develop documentary media that support keeping reproductive rights safe, legal, affordable and available. Our first film, WHEN ABORTION WAS ILLEGAL, focuses on the dangers of the back alleys. The message is that unless these services are available, women who are young and those who are poor might resort to the back alleys once again, as they did for a century when safer abortions were only available to the wealthy. The message of our next film, From DANGER to DIGNITY was and still is: to be aware of the history of women's reproductive rights. This film traces how women won the protections of Roe v. Wade. Our third film, The FRAGILE PROMISE of CHOICE, follows the continuing dangers to those committed to performing safe legal abortions. Hard'won protections for providers are vulnerable and the price of access is indeed eternal vigilance.
MOTHERHOOD by CHOICE, Not Chance distills key moments from each of the three films in the 2 1/2 hour-series, CHOICE: From the Back alleys to the Supreme Court & Beyond, by weaving together selected scenes and interviews from these provocative documentaries.
WHEN ABORTION WAS ILLEGAL: Untold Stories illuminates a largely undocumented era in women's history. First-person stories reveal the physical, emotional and legal consequences of having or providing an abortion when it was a criminal act.
From DANGER to DIGNITY: The Fight for Safe Abortion weaves together two parallel stories: the evolution of underground networks that helped women find safe abortions outside the law, and the intensive efforts by activists and lawmakers to decriminalize abortion through legislative and judicial channels.
The FRAGILE PROMISE of CHOICE traces the current erosion of access to safe abortions, funding cutbacks, and harassment and violence. Each of these attacks on women's reproductive rights affects the lives of abortion providers and the women who seek their services. Women's clinics that provide abortion services usually also provide additional reproductive health care.
Films in the Series
CHOICE: Then & Now
(all films available in English and Spanish)

Choice At Risk
A video toolkit of resources including 25 clips, 7 shorts, a 15 page action guide and more. http://choiceatrisk.org
Choice at Risk - Spanish version
Reviews
"Using sensitive interviews and strong archival footage, these films document the complexity of this issue with accuracy and compassion."
SARAH WEDDINGTON
Attorney representing Jane Roe
in the Supreme Court Case: Roe v. Wade
"These chilling documentaries are strong preventive medicine for our society. Most of us have forgotten or were never aware of the tragic health consequences of illegal abortions."
DAVID SOBEL, MD
Director, Patient Education
Kaiser-Permanente (No. CA)
"These films allow those who lived the history of abortion, in all its political, and psychological complexity, to tell their own stories."
MICHAEL FOX
San Francisco Bay Guardian